March
Well it's safe to say that the month of March was jam packed, just like February was.
We celebrated all things Gaeilge this month. We danced the Siege of Ennis at our school céilí, we performed 'Má Tá Tú Sona Sásta' (If You're Happy and You Know It) at our ceoilchoirm and took part in our Lá Glas to celebrate St Patrick's Day.
One of our talented classmates even showed off his amazing Irish Dancing skills for us in the classroom.
We were also kindly invited to our local library to take part in a treasure hunt, also celebrating Seachtain na Gaeilge. We spent some time reading books there and Anne Marie read us a hilarious story called 'Bears Don't Eat Egg Sandwiches'.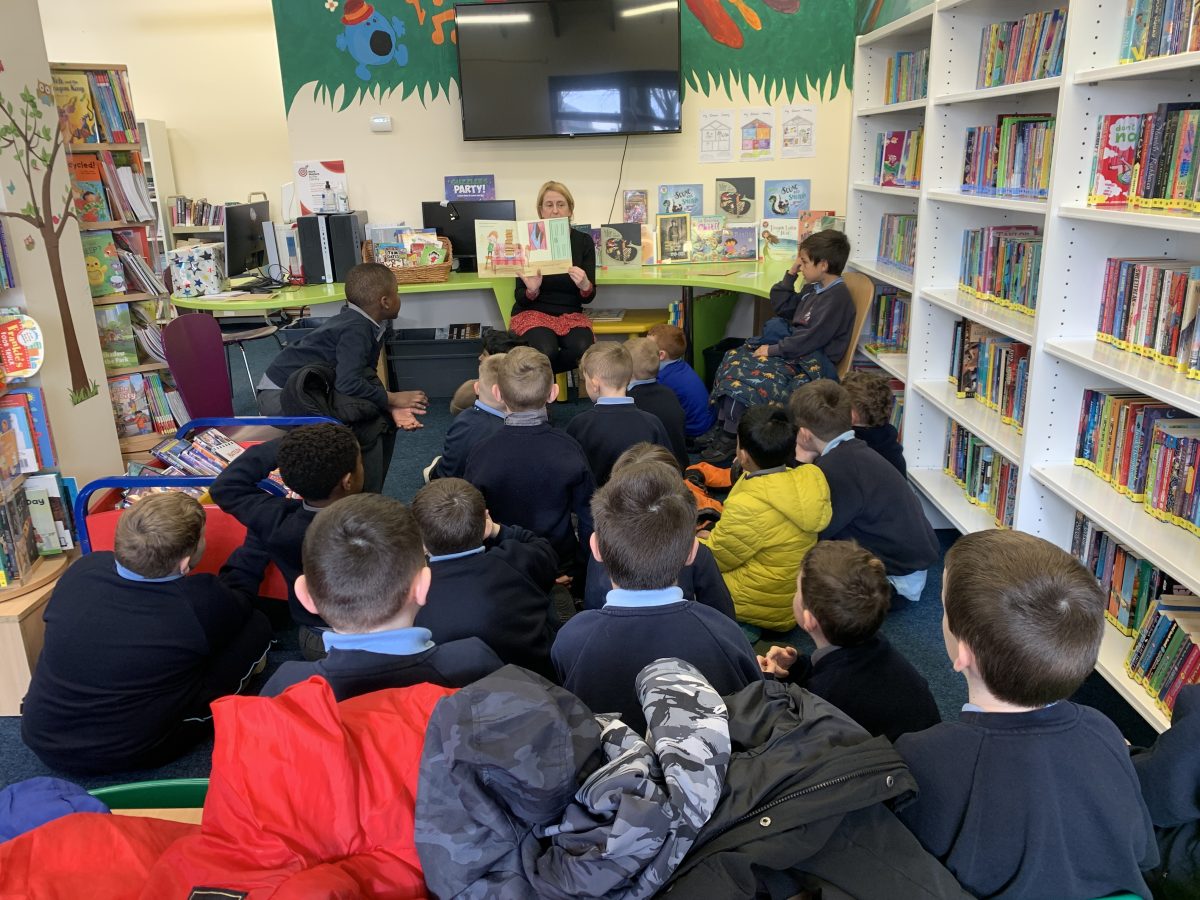 February
Spring has sprung! Check out our beautiful daffodils and the poem we have been learning.
We began the new season with a whole school assembly where each class demonstrated a small piece of their learning. We performed a Chinese New Year song and showed off our colourful Chinese Lanterns.
We were feeling musical this month so we got creative and tried desk drumming in the classroom using paintbrushes. This was a bit hit with the boys and I think we have future Rock and Roll stars in the making!
We also spent some time learning new computer coding skills and the boys have made huge progress already.
Love was in the air in 1st class and we really enjoyed getting our creativity flowing by constructing beautiful heart bouquets. The children couldn't wait to bring these home!
We were so lucky to have pancakes in school on Pancake Tuesday and we can safely say that they did not last long. The chocolate spread was a big hit. We then had a visit from Sr. de Lourdes who blessed us with ash the following day for Ash Wednesday.
The most exciting thing this month was starting swimming lessons in the Kingfisher. We're not sure which was more exciting.. the very short bus trip or the actual swim!!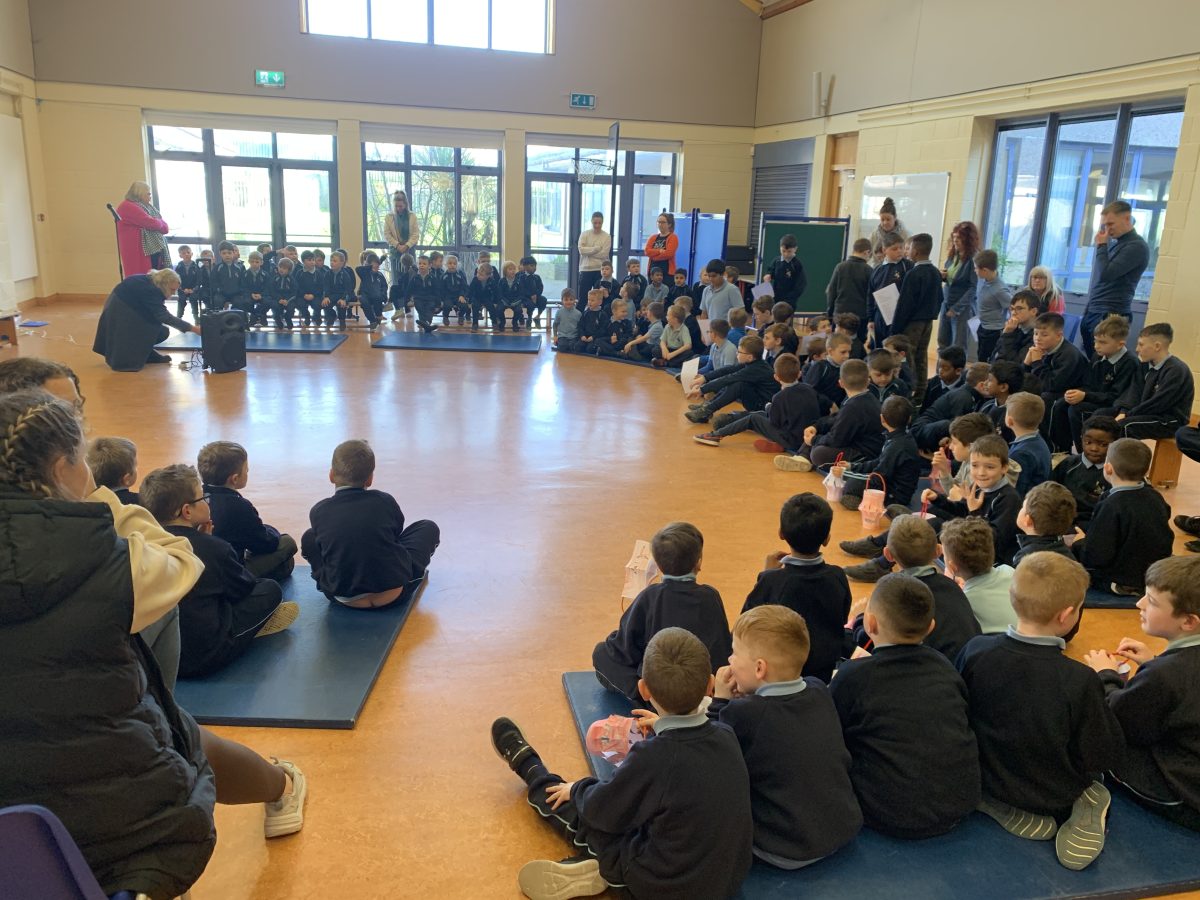 January
Happy new year! We are so delighted to be back with our friends after a restful Christmas break. We started our year by making New Year's resolutions.
We have been learning all about China, Chinese New Year and giant pandas. This year is the year of the rabbit and we had great fun discovering that most of us were born in the year of the goat or the monkey.
We are also delighted to be back playing hurling with our Roanmore coaches.
We are even more delighted to have had our parents in again for Maths for Fun games. This was organised by our HSCL Ms Kent and is running for 4 weeks. We had so much fun in week 1 and we are so looking forward to having our parents in again for the next 3 weeks.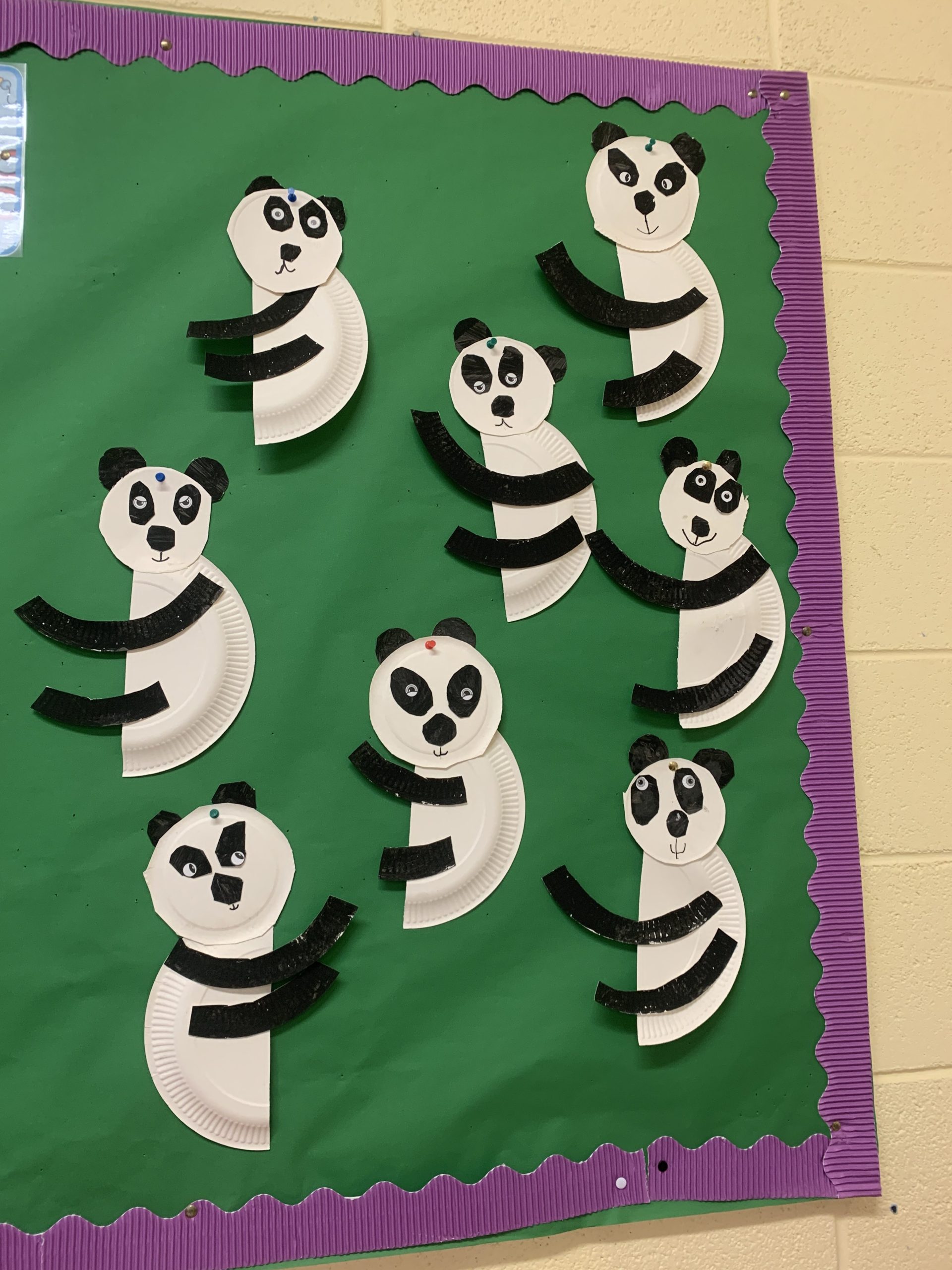 December
December was a very enjoyable and busy month for us in 1st class. We spent a lot of time rehearsing for our Christmas play called 'The Magical Christmas Jigsaw' and magical it was! We performed for our parents on the last week of school and we did them proud.
Ms Vereker kindly organised the 12 days of Christmas which was so much fun. Check out our Christmas door decoration for day 1. We also had great fun for 'drop everything and dance'.
1st class have worked so hard this term and are looking forward to the Christmas break.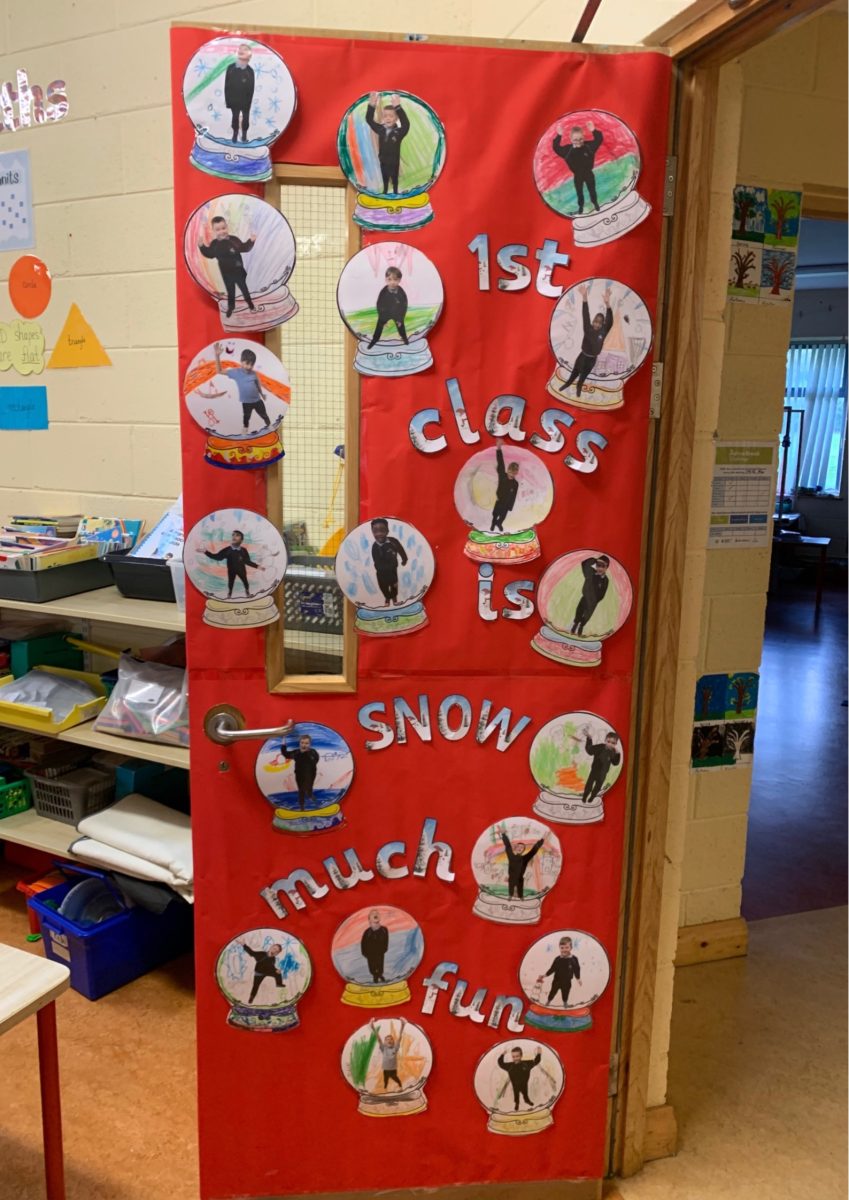 November
This month, we celebrated Science Week. We did science experiments, planted our own cress seeds and we were even lucky enough to attend a bubble show in SETU. We still can't believe Bubbles put one of our classmates inside a giant bubble!
We really enjoyed our first STEM challenge of the year – making the tallest tower using only marshmallows and matchsticks. Temptation to eat all of the tasty looking marshmallows was tough, but we got our science and engineering thinking caps on and got to work.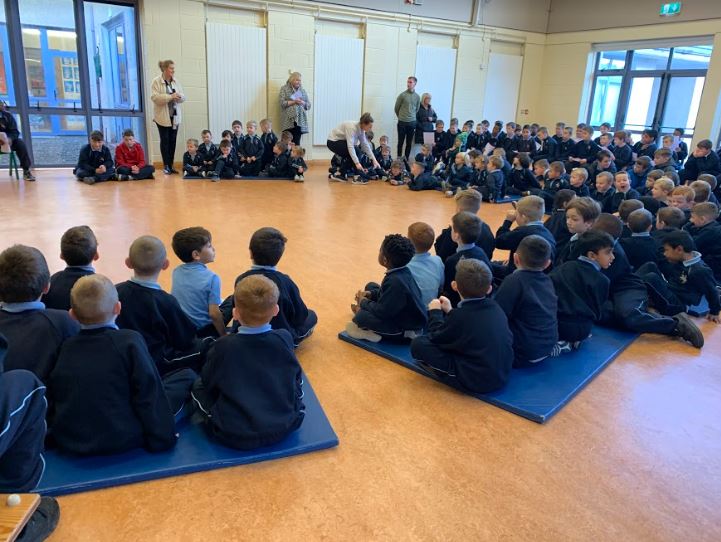 October
We can't believe we are half way through term 1! September and October have flown by and we can't wait to show you just some of the things we've been up to.
Our hurling training got off to a great start this term with Ciarán from Roanmore GAA club. We are having lots of fun while developing our skills each week.
As part of Science this month, we ventured outdoors in search of some colourful autumn leaves. We had great fun crunching on those leaves! We then brought them inside and used them to design our own leaf characters. We are super proud of these turned out.
Maths Week took place from the 15th – 23rd of October this year. We learned that number is all around us, so we did an 'All About Me in Numbers' activity.
We were so lucky to have some of our parents come into our school to help us make spooky witches for Halloween, organised by our HSCL Ms. Kent. Thank you to our wonderful parents, we had so much fun!
We are looking forward to relaxing and recharging over the midterm and we are excited for lots of more learning to take place in the second half of term 1.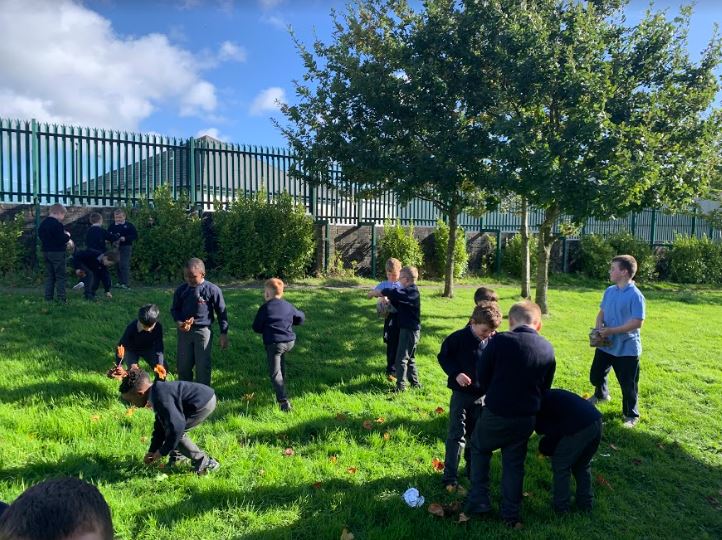 September
First class have been busy making their own custom Play-Doh/ art mats. The children get to use their mats every week and it creates great excitement and opportunities to use their imagination.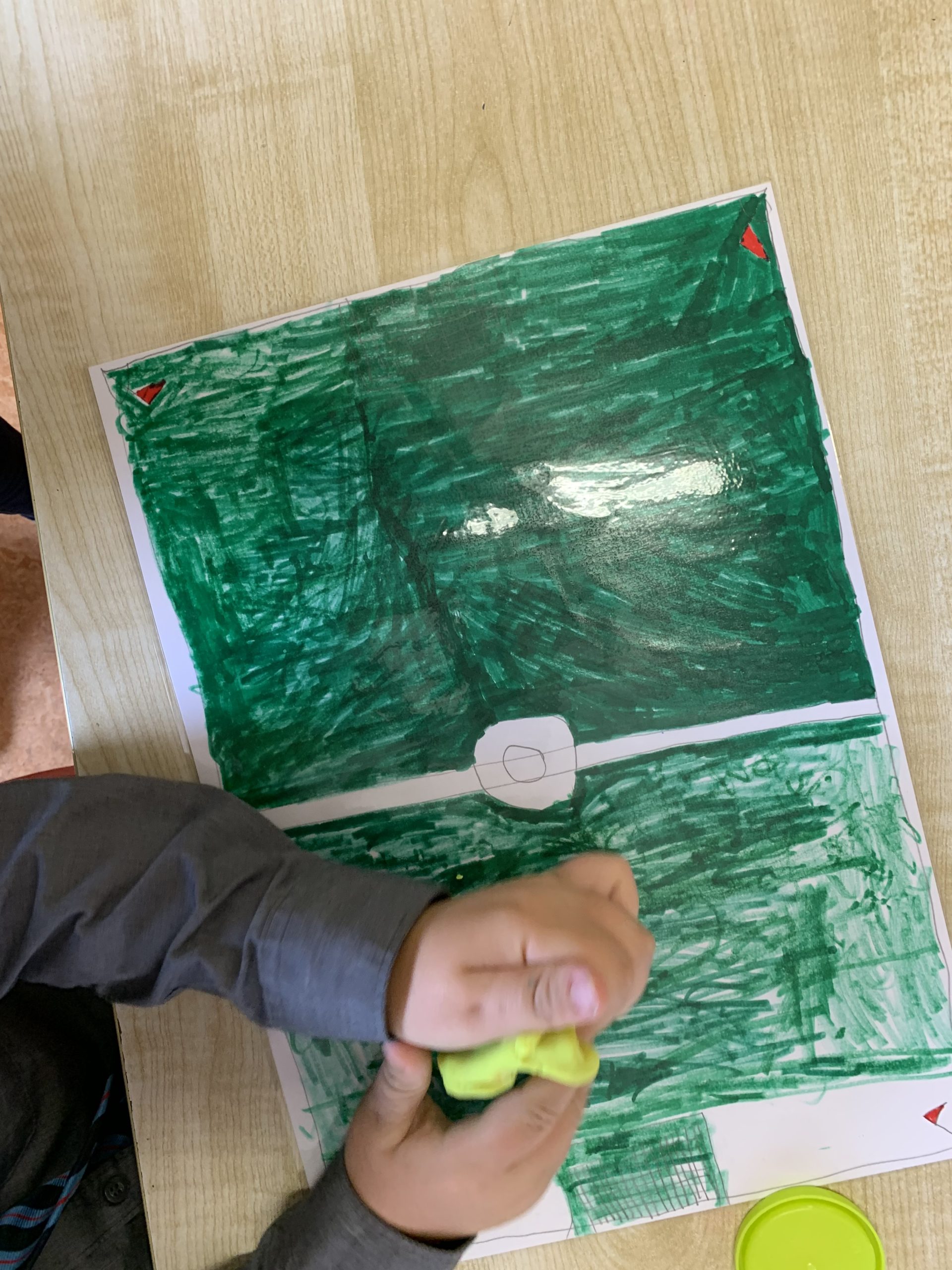 We also enjoyed reading the story called 'Monkey Needs to Listen'. We learned of the importance of listening to instructions carefully, so we that we could follow instructions to draw our own listening monkeys.