September and October
Our 6th class were very busy this term and they worked extremely hard. Here are some of the pictures highlighting some of the activities we have completed.
Football: We have reached the final of both U13 and mini 7's football which will take place after the Halloween break. The boys have trained hard and we are hoping to win some silverware.
Art: We completed a Halloween themed Art webinar courtesy of Wexford Education Centre which everyone really enjoyed; learning tips and tricks on how to draw certain characters and designs from a local artist.
Secondary School: We sampled some taster lessons in St. Paul's Community College and also spoke with some teachers and the principal as the class prepare for secondary school. We also visited the secondary school library and went on a tour of the school.
As part of Maths week, we completed a number of maths games and activities which really added a fun element to our maths classes, engaging in some hands on, practical learning using mathematical concepts.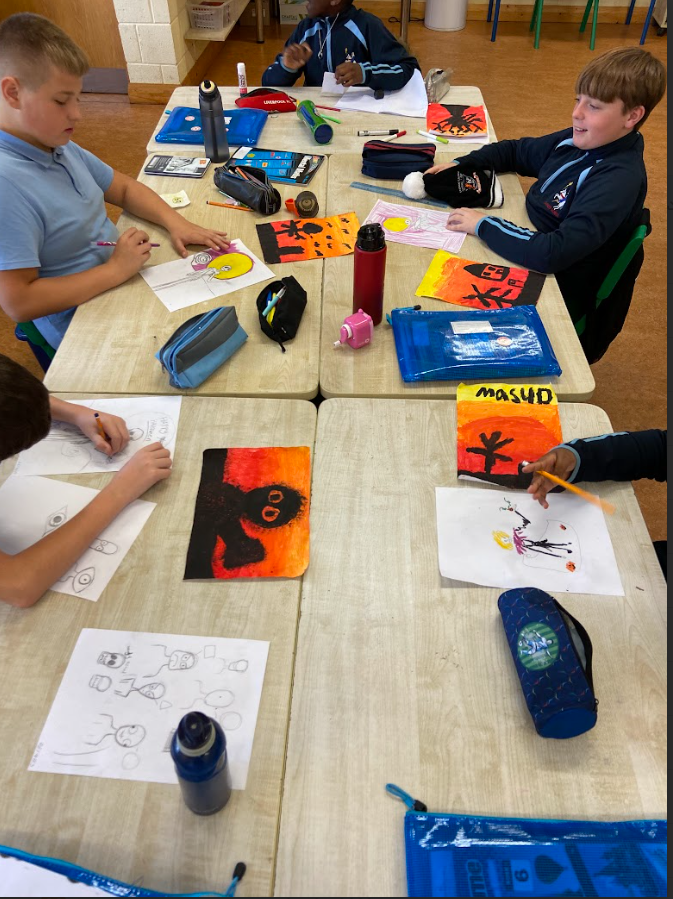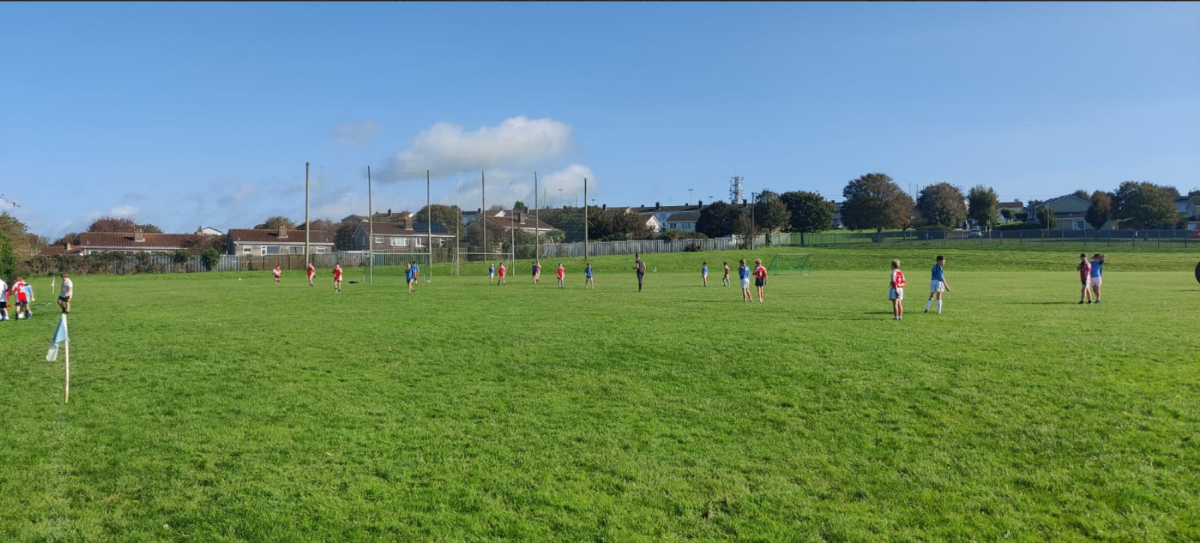 5th Class 2022 – 2023
Out and About in June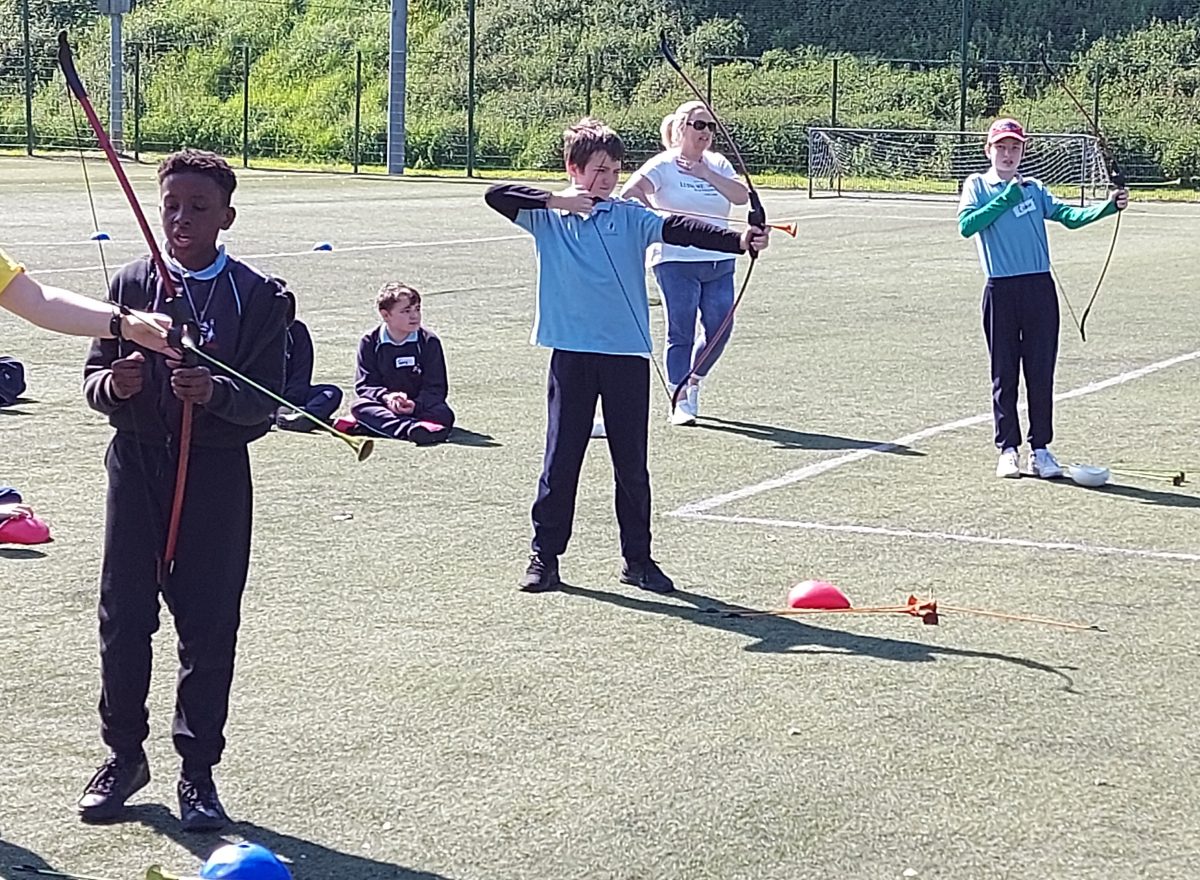 May in Ms. O' Keeffe's
We ended the month of April on a high. Artist Adele Stanley returned to school with our finished art pieces. Adele fired them in her kiln in her art studio near Lemybrien. We were so impressed with the finished pieces that we had a mini exhibition in the school hall. Pupils from 5th and 6th class invited younger classes to the hall to see what they had made. It was a great opportunity to show others what they had made and to explain how/why they made what they had made. Thanks again to Adele, we thoroughly enjoyed your visits.
There was a great buzz of activity around the school as we celebrated Active School Week. Over the course of the week we enjoyed activities such as table tennis, a soccer blitz, Zumba, a visit from the scouts, a student v teacher basketball shootout (which the teachers narrowly won!) tag rugby, basketball, orienteering, running off our heats for the upcoming RSC races and activities on the walkway around our school building. Many thanks to all the organisers. It was a resounding success and thoroughly enjoyed by all.
On April 28th, 4th – 6th classes were kindly invited to Carrickpherish Library to listen to Joseph Coelho. Joseph is an award winning author of over 23 books and is the current Waterstones Children's Laureate 2022 – 2024. Joseph spoke of his love of writing both poetry and books and he also read from some of his Fairy Tales gone Bad series.Thank you to Carrickpherish Library for inviting us along.
In our April update, we mentioned that our school is currently working towards achieving our first active school flag. All classes have learned how important exercise is for our health and we are enjoying being more active in school and spending some time outdoors for a movement break. Our class were collectively jogging to two destinations. We reached our second destination, Gobbins Cliff Walk in Co. Antrim, a staggering 297 km away from St. Paul's. Well done to all!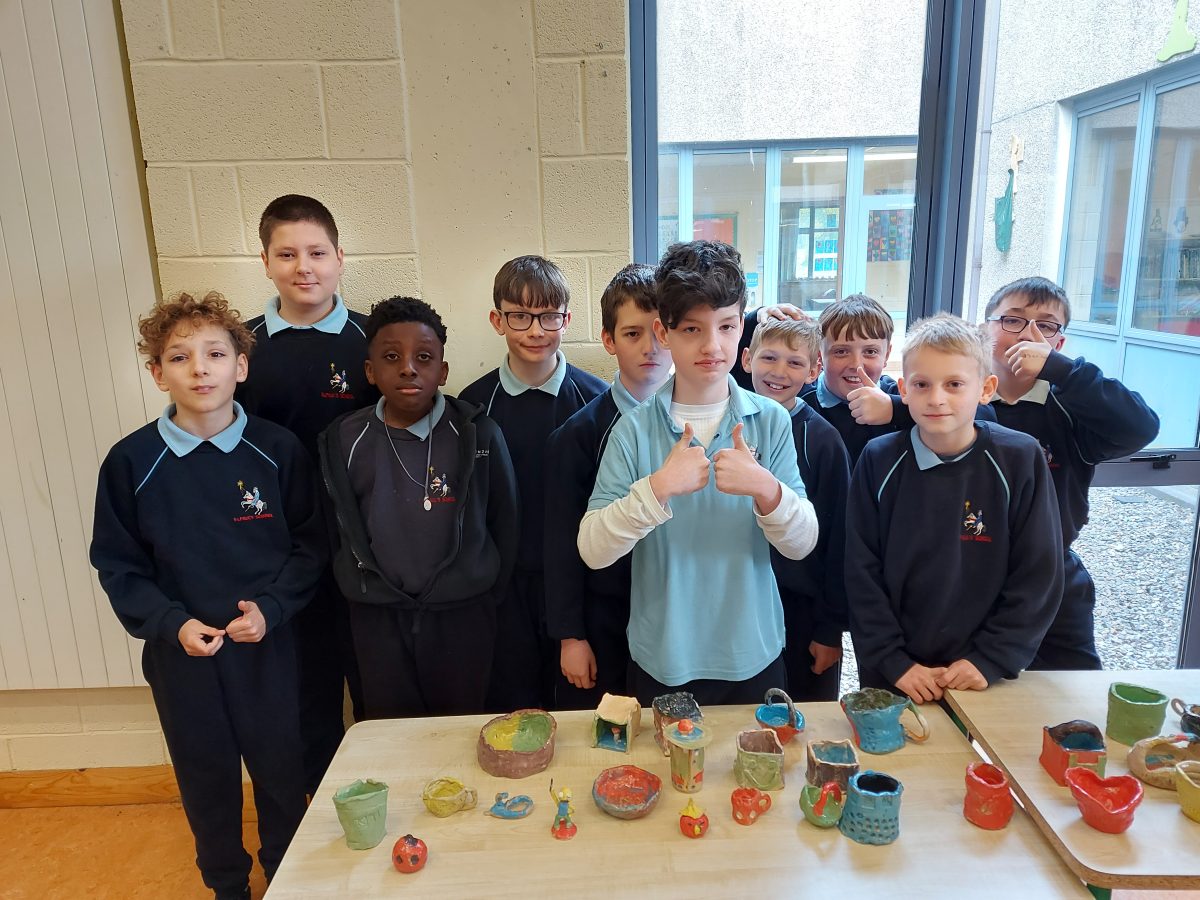 April in Ms. O' Keeffe's
Welcome back to our final school term. The run up to the Easter holidays was incredibly busy. Having finished a unit of work in Science on the strand of forces, the class were asked to design and make a playground feature which would incorporate the theme of forces. The classroom became a hive of activity. We quickly discovered that it was far easier to design rather than make some playground attractions. The class first got a box of duplo to use and made some playhouses to enhance our playground. Making the leap from designs and plans on paper to creating and building was quite challenging. A combination of recycled materials and art and craft materials were used to make some fantastic pieces. We also discovered that a hot glue gun can fix most things! There were lots of opportunities for peer teaching and learning and the reflections completed afterwards were both impressive and informative with the class outlining strengths and areas that may need some work if we were to repeat the task. Team work certainly made the dream work and we are incredibly proud of all of their creations.
We had a fun drawing class with Wexford artist Nadia Corridan through zoom on March 30th. It was an Easter themed drawing workshop just before the Easter break.
Our school is currently working towards achieving our first active school flag. All classes have learned how important exercise is for our health and we are enjoying being more active in school and spending some time outdoors for a movement break. Our K-a-Day and the running track on the school grounds are integral to the challenge we have been set. Our class has been assigned two destinations that we must collectively jog to. Our first destination was Glencar Waterfall in Co. Leitrim, 246 km away from our school. This we achieved on the day of the Easter holidays! Our second destination is Gobbins Cliff Walk in Co. Antrim, 297 km away from St. Paul's. We still have a way to go but we'll get there.
In sporting news there have been a few things happening. To conclude our non-contact rugby schools programme offered through Waterford Sports Partnership with Munster Rugby and Waterford City Rugby Club, some of our 4th – 6th class pupils were invited to take part in a blitz on Friday 21st April in SETU Arena, Carriganore. Well done to those who took part and many thanks to all involved. Some of our 5th – 6th class pupils also competed in the County final of the FAI 5-a-side County Qualifications Blitz.
Lastly, congratulations and well done to one of our pupils who was one of the worthy winners of a recent art competition. The senior classes were asked to design a poster based on the dangers of vaping. He was delighted that his poster was successful, well done.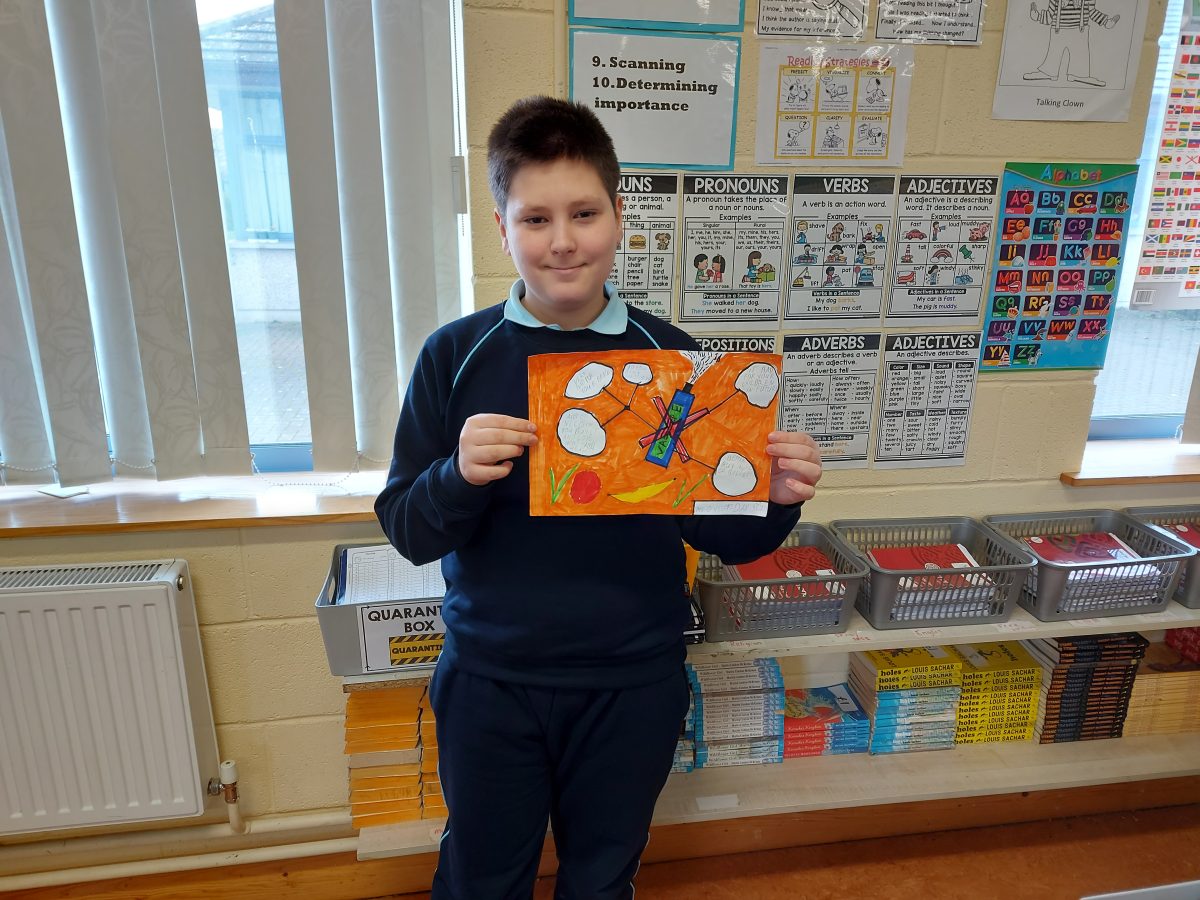 March in Ms. O' Keeffe's
March has proved to be a super month with lots of great things happening inside and outside the classroom. On March 7th, twelve of our 5th/6th class pupils represented our school in a mini 7s hurling blitz in Ballybeg. The boys got off to a flying start with a win over St. Saviour's. St. Stephen's and Scoil Lorcáin were too strong for us on the day, but St. Paul's played really well and represented their school with pride. Many thanks to Mr. Lacey and Gavin O' Brien who coached the boys over a number of weeks and well done to all involved.
Our ceramic lessons with Artist Adele Stanley came to an end at the start of the month. We enjoyed a number of lessons and created and designed several fabulous pieces. We also got to use a special paint on our clay creations. Adele has taken our painted pieces to her studio to fire them in her kiln. We look forward to seeing our finished products.
Our whole school community enjoyed some wonderful celebrations for Seachtain na Gaeilge and St. Patrick's Day. We were very fortunate to have Ms Cox and her sister Sally perform for us in the school hall and one of our first class pupils then danced not once but twice for us. Well done, you were absolutely wonderful! Many thanks to our very talented Ms Cox and Sally for playing so beautifully for us.
We also had a Céilí in the hall. The older pupils partnered up with some of our younger pupils and danced the Siege of Ennis together. We were so busy having fun that we had no time to get some photos! We also had a school assembly and Ceolchoirm in the hall. 5th and 2nd class teamed up together and did a fantastic job on the Haka Gaelach. A huge well done to our 2nd class and 5th class chiefs who stepped up and led both classes in the Haka. You were both wonderful leaders and did your classes and your teachers really proud. By the end of Seachtain na Gaeilge we had certainly earned our day off for St. Patrick's Day!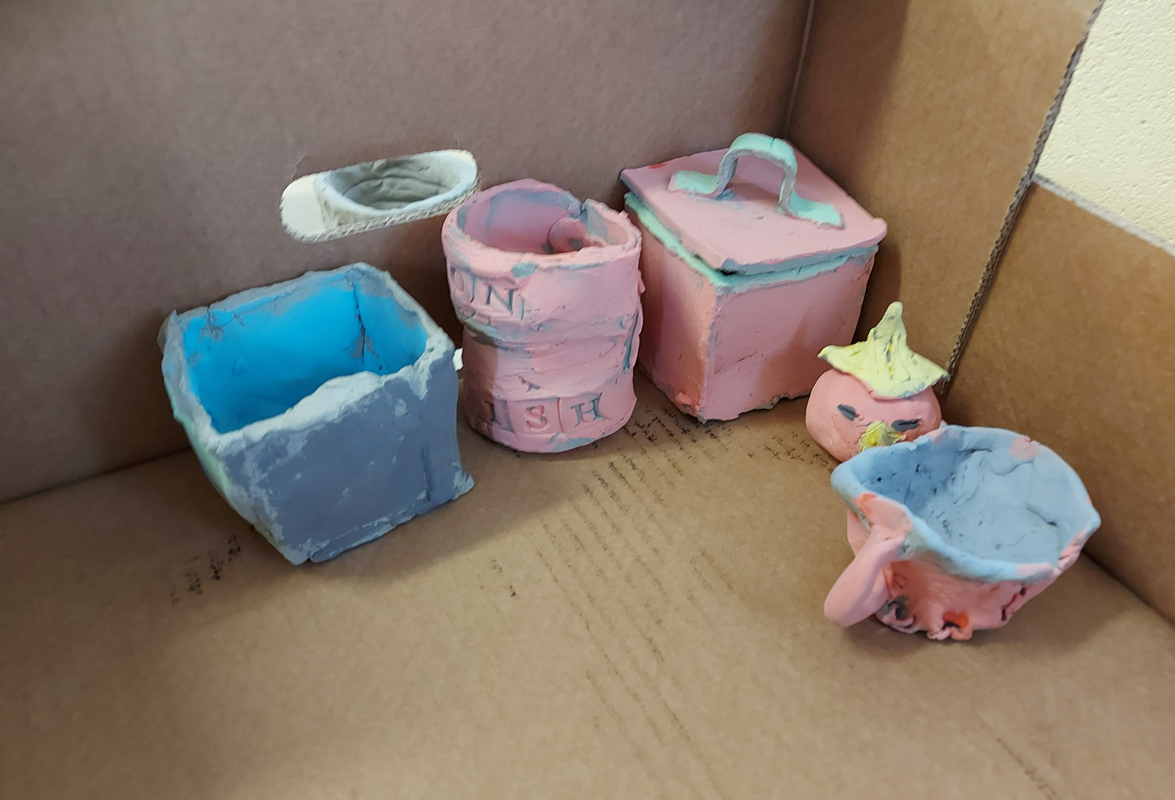 February in Ms. O' Keeffe's Class
February certainly passed in the blink of an eye! We had so many nice things to look forward to and can hardly believe that two months of 2023 have passed already. Having had rugby, ceramics, an online drawing workshop, starting the Learning 4 Life programme, pancake Tuesday, a soccer blitz and midterm break it has been an action-packed month.
Our non contact rugby sessions came to an end mid month. We availed of these sessions through Waterford Sports Partnership with Munster Rugby and Waterford City Rugby Club. It was a fantastic programme involving relay games, catch and pass games with a huge focus on movement, fun and participation. Many thanks to Ms. Kent and Waterford Sports Partnership for providing this opportunity for our 4th – 6th classes.
We have been very creative in the classroom. Artist Adele Stanley has been with us on Wednesdays throughout the month of February. We have been learning how to create and design cups, pots, boxes and much more using clay in our ceramics lessons. We also had a fun drawing class with Wexford artist Nadia Corridan through zoom. It was a Snoopy themed drawing workshop just in time for Valentine's Day.
Some of our 5th class pupils have been fortunate enough to be involved in the Learning 4 Life Programme with SETU student volunteers in conjunction with Waterford SCP. Over a number of weeks the pupils will be supported with their homework while also participating in a range of activities including computing, web design, science, sports, arts and drama. Feedback from those taking part has been really positive to date.
Congratulations and well done to our 5th/6th pupils who were involved in the recent FAI 5 – a-side County Qualification Blitz. One of our 3 teams not only made it to the final but won against Gael Scoil na n Déise on a score of 6 – 4. Some pupils will compete in the county final in April. Well done to all involved and best of luck going forward.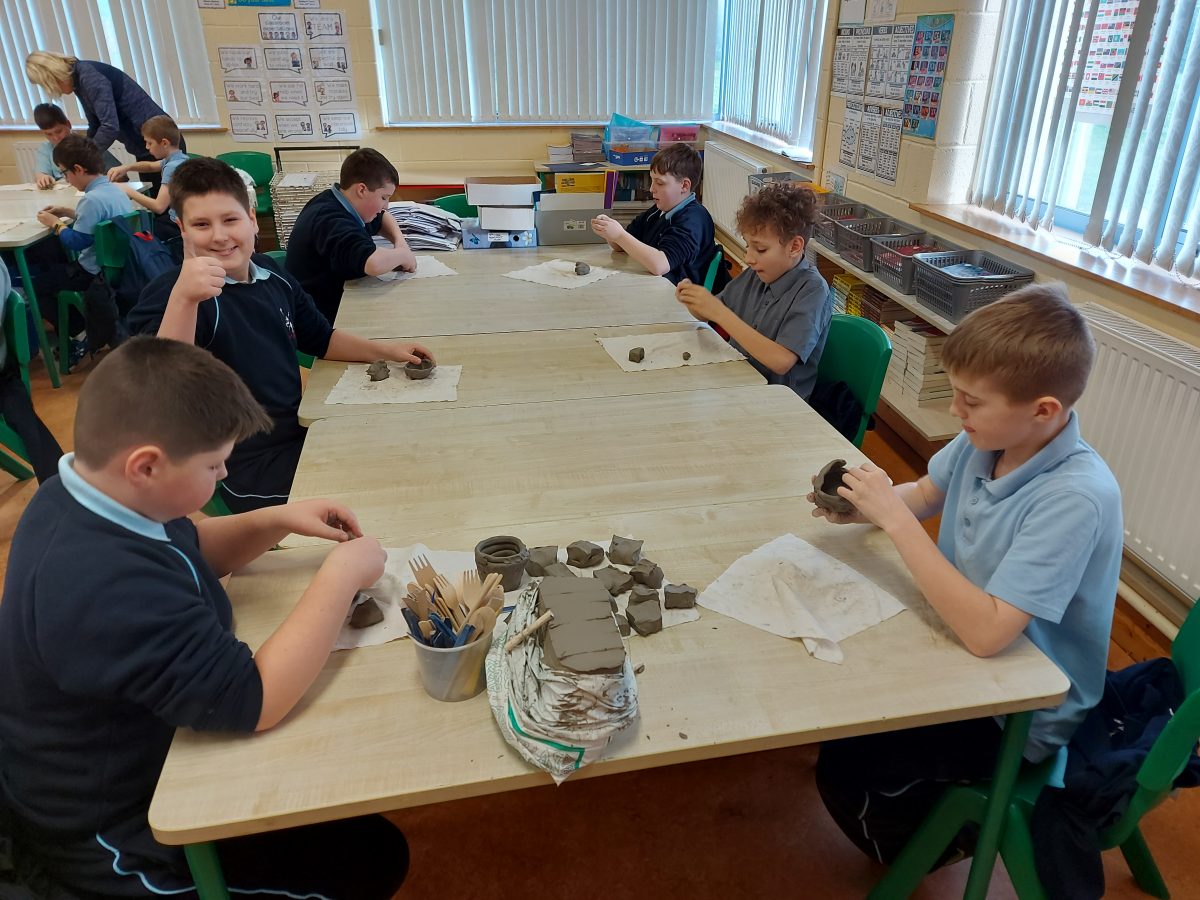 January In Mr. Lacey's Class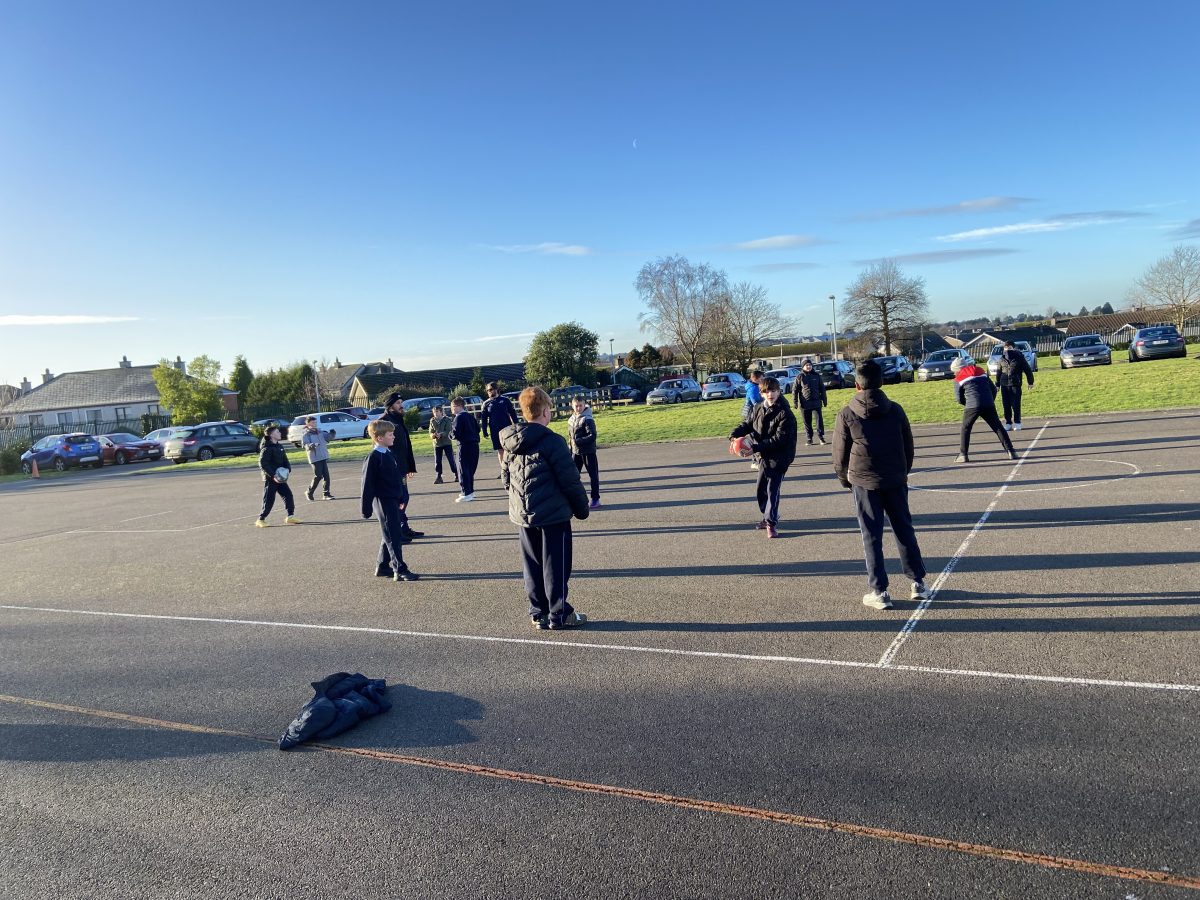 January in Ms. O' Keeffe's Class
Happy New Year and welcome back to a new school term! It's hard to believe that January is almost over already. We quickly settled into the new term as January got off to a flying start. In sporting news – Hurling training continues each Friday afternoon for 5th and 6th class pupils. We have also been very lucky to have two coaches join us on Mondays to teach us how to play rugby.
The pupils began some coding work using Scratch 3.0. Using Scratch they are learning to program their own interactive stories, games and animations. The pupils are learning to create digital stories, games and animations, ranging from very basic to more complex. They have been creating some fantastic scripts and have come a long way in a short time. They are working really hard and are learning to create and problem solve.
Well done to Seán who was one of the worthy winners of a recent art competition. The Active School Flag Committee asked the older pupils to design a poster based on our Active School Slogan – 'In St. Paul's we want to get fit, everyone is doing their bit.' Seán was thrilled that his entry was successful. Well done too to Dale who was chosen as our representative on the student committee for the Active School Flag.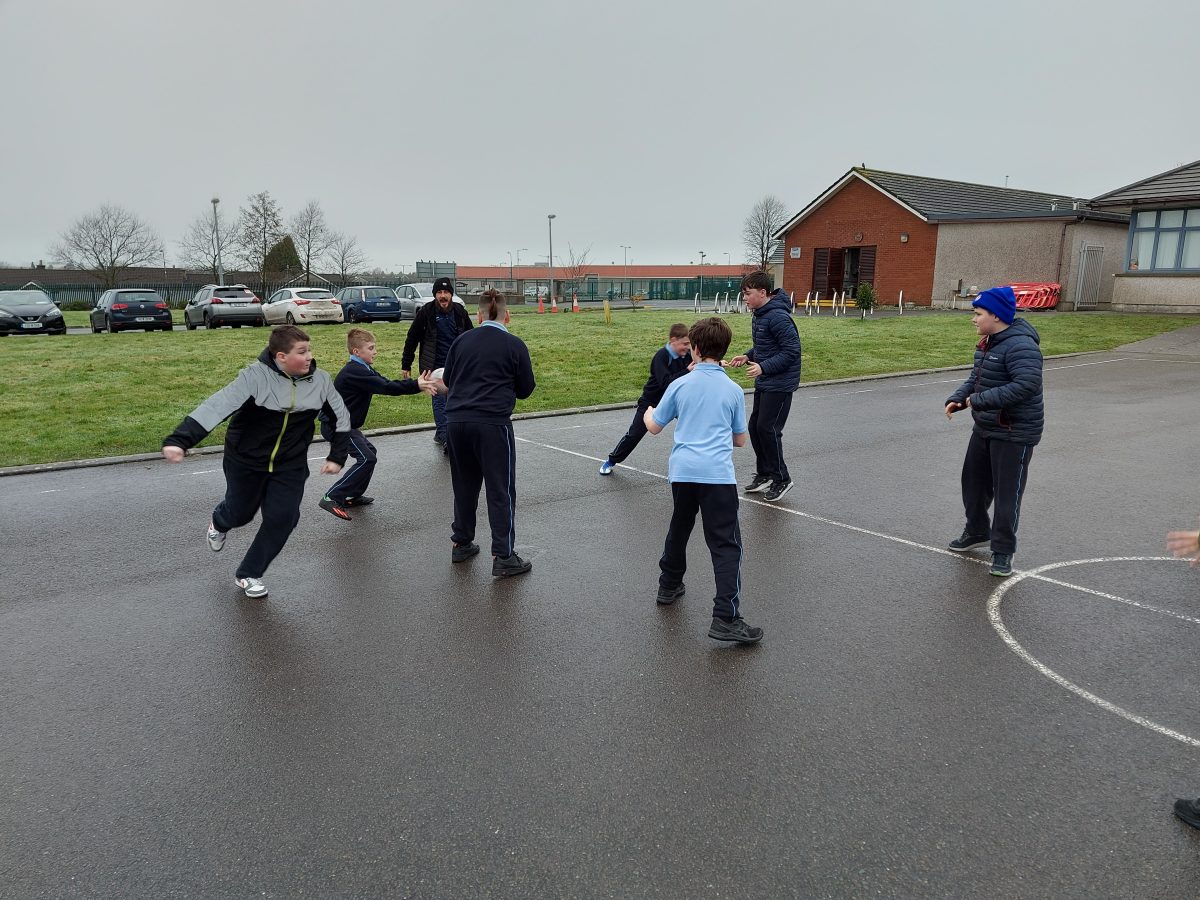 December in Mr. Lacey's Class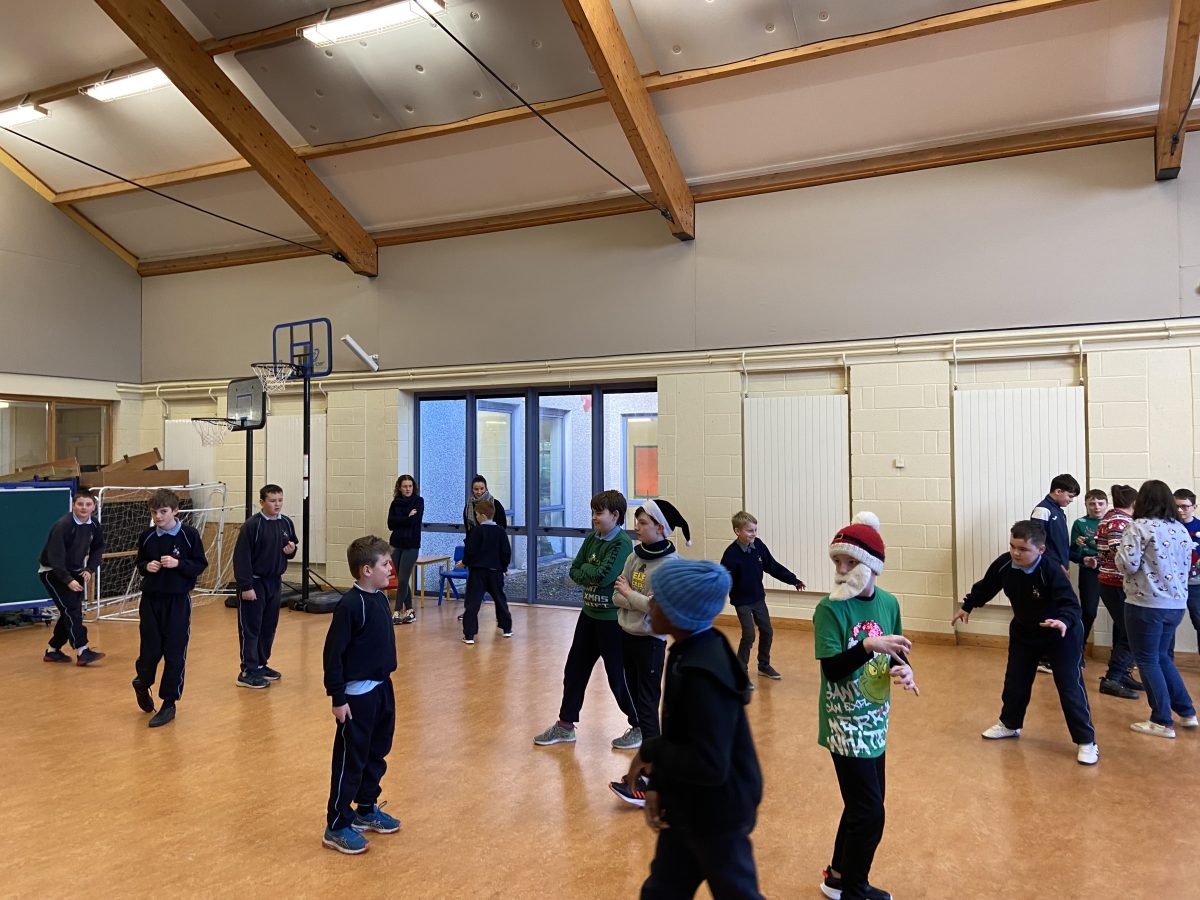 December in Ms. O' Keeffe's Class
December was a rather busy month and passed so quickly. 5th class was a hub of activity as we took part in the 12 Days of Christmas. Activities ranged from the Christmas door competition, each pupil designing their own star for a whole school collage, odd sock day, the Santa Run, hot chocolate day, Christmas jumper day and much more. There was plenty of festive art too. We made some beautiful 3D baubles and added some festive cheer to our corridors and classrooms with our wonderful art pieces. Well done to Wojciech who was the lucky winner of the art competition. He designed the winning Christmas Jumper entry in our classroom. In the midst of the 12 Days of Christmas activities we were also keeping a keen eye on the 2022 Fifa World Cup. Noah was the lucky overall winner as Argentina defeated France 4-2 in the penalty shootout.
We were also busy rehearsing for our concert which was a great success. 4th, 5th and 6th classes sang together and did a fabulous job. The 4th class boys were fantastic on the recorder. Some of our 5th and 6th class boys showed what they have learned on their instruments and were outstanding on the flute, saxophone and clarinet. As ever, we were delighted to have Danny Pullman put the finishing touches to our musical pieces. Huge thanks to both Mr. Dunne and Danny for adding to and enhancing our concert.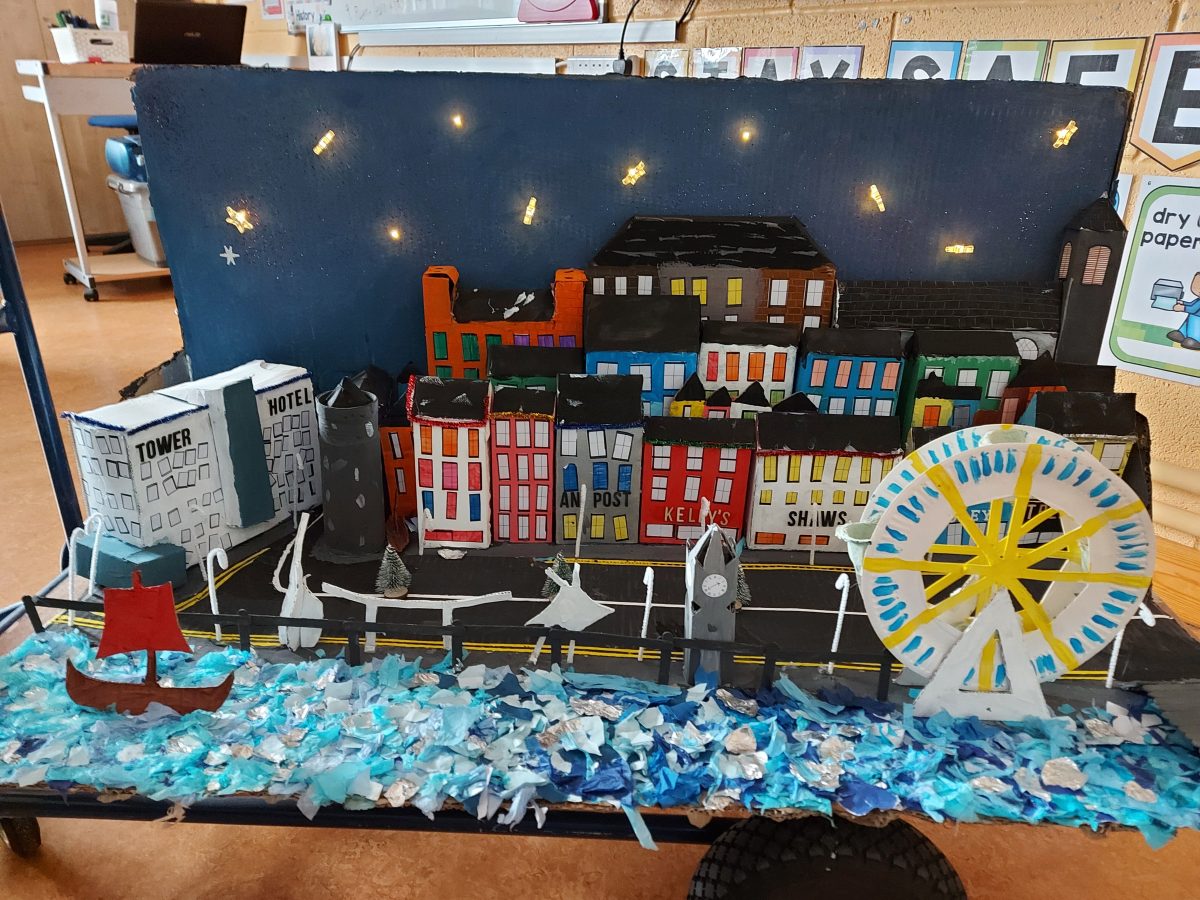 November in Ms. O' Keeffe's Class
November has been such a busy month and it has passed so quickly! The children completed their five – week Cycle Right course with Donal and Ollie. The Cycle Right course was a fantastic opportunity for all. Some learned to cycle from scratch which is very impressive. Well done to all involved. As always, it was a pleasure to have Donal and Ollie visit our school over recent weeks.
In the classroom we've been exceptionally busy. We had Science Week from November 14th – 18th. Science Week was an opportunity for us to celebrate science and discover more about science, a subject that teaches us about our world, nature, animals, planets and much more. In the course of the week, we carried out some experiments, we had a daily Super Scientist and fun fact of the day and the children completed a brief project on a scientist of their choosing. In Art, we designed funky folders for all our art pieces. They made some fantastic characters from blobs of paint and we also started a unit of work on the work of Romero Britto.
November 20th marked the beginning of The Fifa World Cup in Qatar. The sweepstake was both tense and exciting. Brazil was one of the final teams to be picked and it was bagged by the teacher!! Who has the lucky team??? Only time will tell! November ended with The Late Late Toy Show and then the December madness is ready to begin.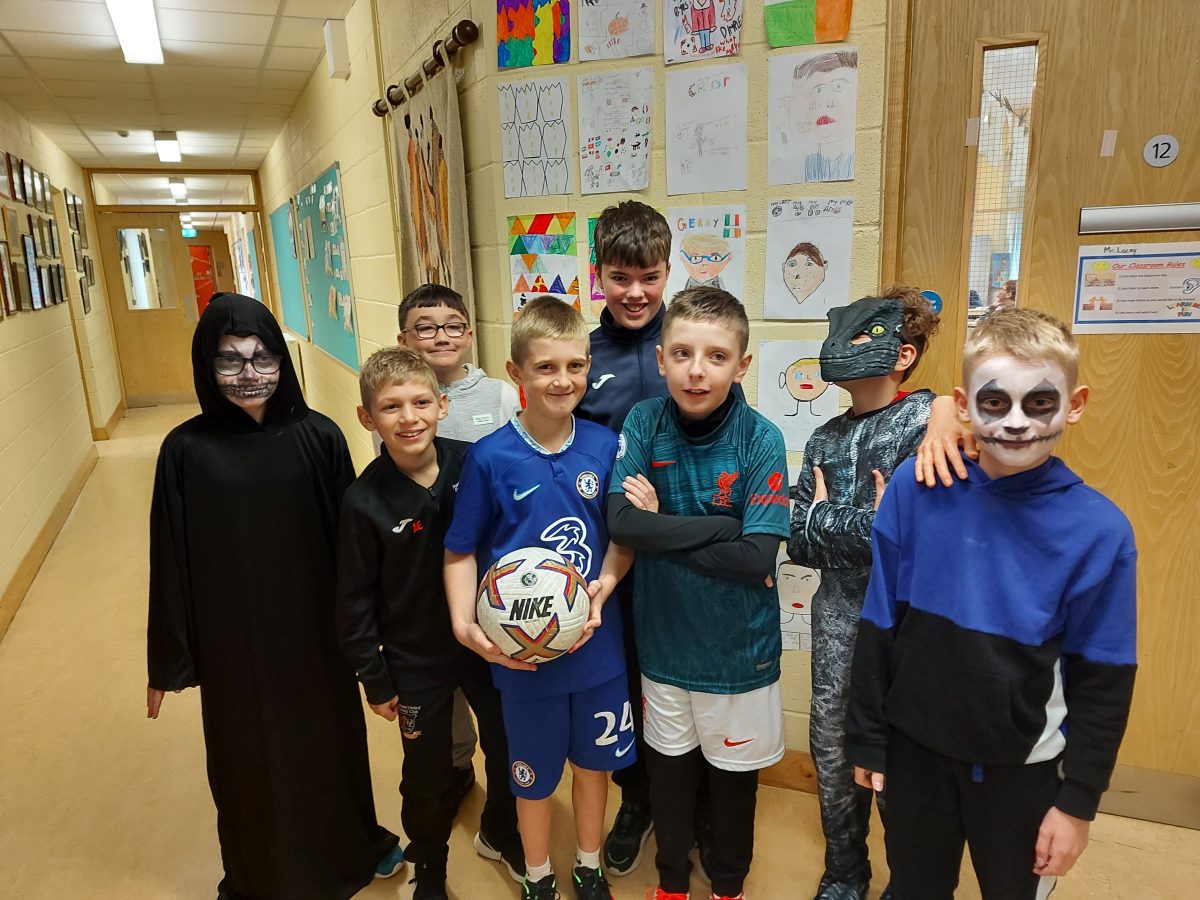 October in Mr. Lacey's Class
In October we have had numerous activities and events occurring in school, We recently started Cycling lessons with Donal and Ollie, whereby some of the experienced cyclists have been learning safety features and tips for cycling on the road, while others have been learning to cycle a bike for the first time.
Our school football team put in an impressive effort, but were defeated by Portlaw in the semi-finals. Well done to all involved!
We have also started our Spanish lessons each Friday. The boys have enjoyed learning some of the basics of the Spanish language and about the Spanish culture.
In Art, we tried to emulate Edvard Munch's 'The Scream' painting while adding in our own unique brush strokes. Also, we designed some haunted houses using the step-by-step instructions which turned out well for our Halloween display.
The children also completed their first ever project as part of their homework which was entitled 'All About Me'. They wrote 3 paragraphs about themselves, their families and their interests while also adding a picture. They all put in a great effort. The project tied in to our SPHE lesson where the children identified their own unique features. In Maths, we learned about tessellations, and we tried to create our own tessellations. On the 25th, we went to St. Paul's secondary school to watch the secondary students perform High School Musical. It was a thoroughly enjoyable show.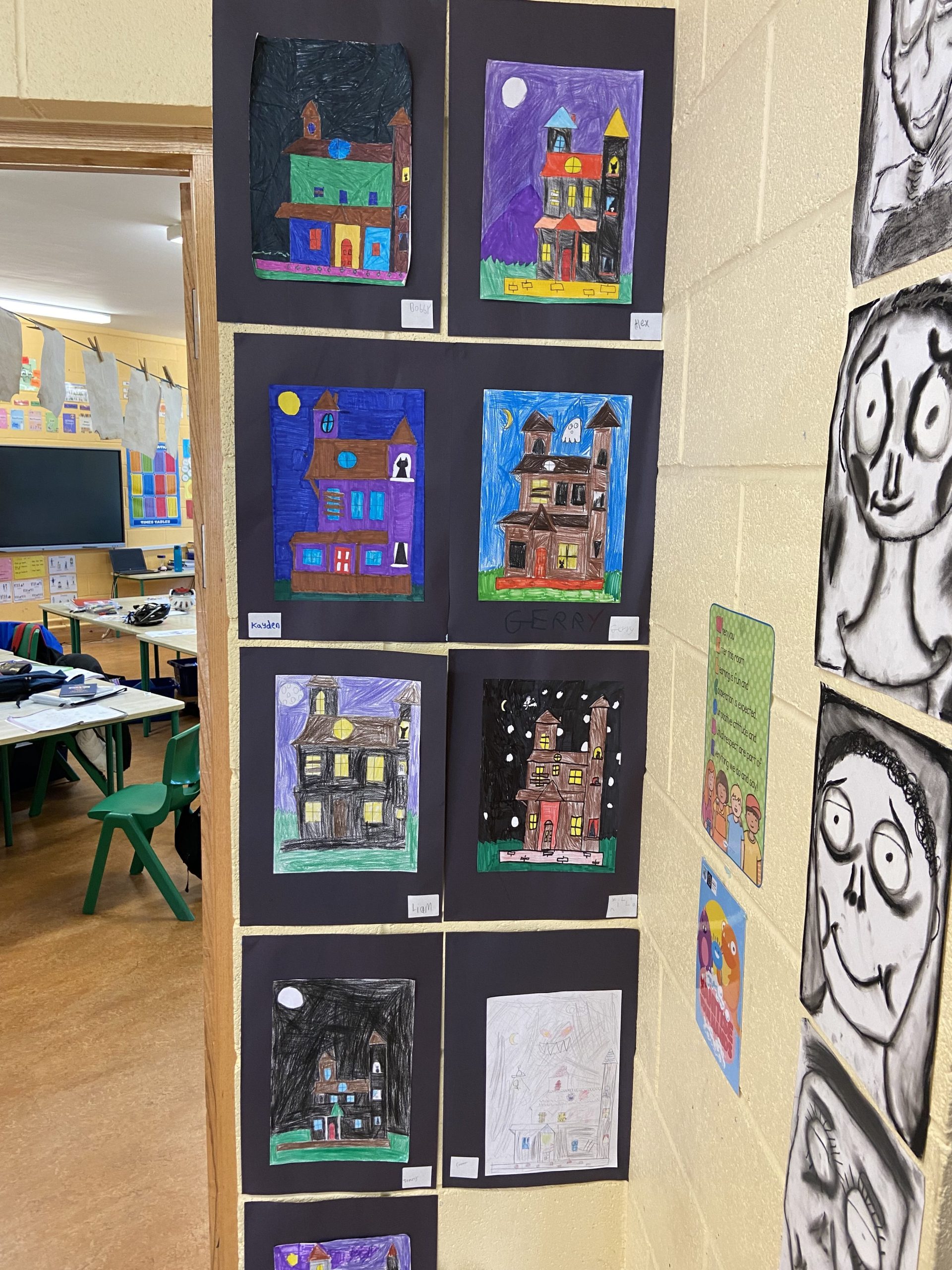 October in Ms. O Keeffe's Class
We have started the Cycle Right course with Donal and Ollie. Cycle Right is a 4 week course that teaches the boys how to cycle safely following the correct rules of the road. They learned about the 3 essential checks: The helmet, clothes and bike check. The Cycle Right course is a fantastic opportunity for cyclists of all abilities and we are delighted to welcome Donal and Ollie to work with 5th class over the coming weeks.
In PE, we continue to work on Sports Education with Mr Lacey's 5th class. We have enjoyed games of Basketball and Olympic Handball, while working on our team building skills. Points are awarded not only to the winning team but also for the best referee, warm-up coach, skills coach, showing respect and fair play and for being the most organised team.
In the classroom, we've been busy working on the theme of Halloween. In Art, the children learned how to draw vampires and also designed and made their own monsters. In Music, we completed a unit of work on spooky music with tracks taken from Hocus Pocus – I put a spell on you, Ghostbusters and The Addams Family theme tunes to name but a few.
We were delighted to have Danny Pullman and Music Generation perform for us in the school hall. We are already looking forward to their next performance! What a talented bunch. We were also thrilled to be invited to St Paul's College to see their production of 'High Street Musical'. Such a lovely occasion and a delight to see some of our past pupils take to the stage and excel.
Wishing all 5th class pupils and their families a Happy Halloween and a well-earned midterm break.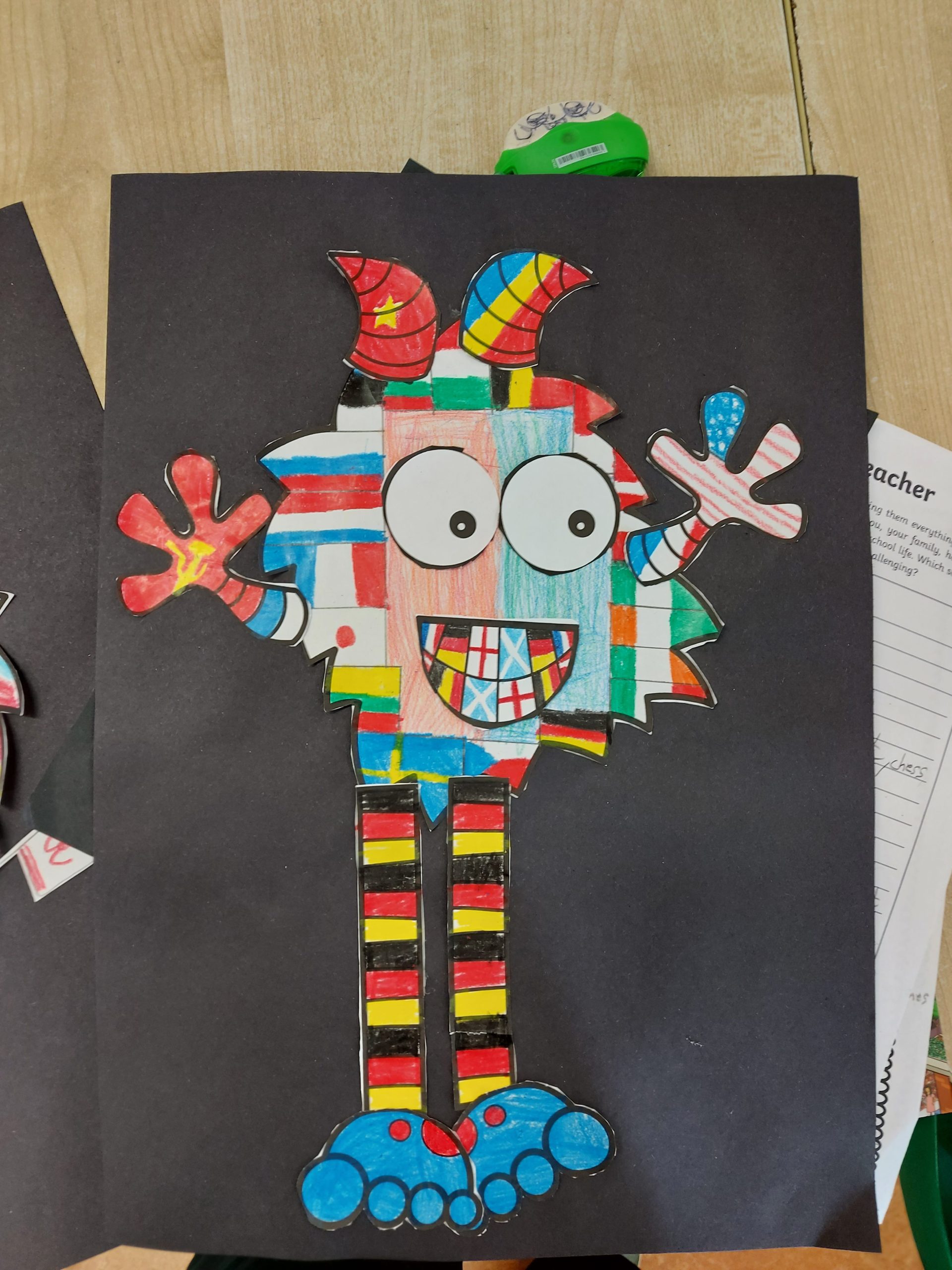 September in Ms. O' Keeffe's Class
Ms. O'Keeffe was delighted to welcome 5th class back to school on August 31st. They have had an incredibly busy September catching up with their friends and settling back to school. It has been full steam ahead!
Many of the children joined the Gaelic team and have represented their school in the U13 Roinn B against Scoil Lorcáin, Ferrybank and Faithlegg. While they've been unlucky on the score board, they have worn the St Paul's jersey with pride. We have also been busy training after school with Mr. Jones and Mr. Lacey and have had some Gaelic sessions on Tuesdays with David Robinson.
In the classroom we've been busy getting to know each other and have quickly settled into our daily routine. In art classes we have been working with bright and vibrant colours, paint and pastels and have learned some great pastel techniques when creating "The Wandering Elephant." Our most recent creations were some abstract paintings and their fabulous names in bubble writing.
We were thrilled to hear that Danny Pullman is returning to continue music lessons with the boys. Some of the 5th class children are learning clarinet, flute and saxophone and have resumed their Thursday lessons. We look forward to hearing them perform for us soon.
October promises to be a busy month too with lots of things to look forward to – our cycling course, all things Halloween, more spooktastic art and our midterm break.